Since 2012, Open Gym Premier has hosted the OGP Asylum Fall League. After a year off due to COVID-19, the league is back with even higher interest from top programs. With weekly score updates, top program and player standouts and many more, follow along below to preview this seasons High School Basketball landscape.
Important Note:
Per CDPH and CIF guidelines, all fans, players, coaches, and workers must wear masks while inside Open Gym Premier, regardless of vaccination status
All fans and coaches must fill out the following COVID waiver to enter:

You must show the COVID waiver confirmation email to enter

All fans will enter and exit through the main entrance nearest the main parking lot
All coaches and players will enter through the Northwest entrance by the handicapped parking
All players, coaches, and fans will be temp checked and health screened upon entering
Rules and Regulations:
JV/FS Games
20-minute running clock halves- clock stops last 2 minutes of 2nd half if within 10 points
1 free throw for 2 points at 10 team fouls per half
Foul shots are 1 free throw for the foul, whether it is an "and 1", 2 point shot or a 3
3 full timeouts per game per team
2 minute running clock overtime (2nd overtime is sudden death); 1 timeout per overtime- timeouts do not carry over
The last 2 minutes of the game will be stop clock if the game is within 10 or fewer points.
Varsity Games
CIF regulation game for Varsity (Four 8-minute stop clock quarters)
1-and-1 at 7 team fouls per half; Double bonus at 10 team fouls per half
3 full timeouts and two :30 timeouts per game per team
1st OT is 2-minute stop clock; 2nd OT is 2-minute running clock; 3rd OT is sudden death
1 timeout per OT- timeouts do not carry over
Varsity/JV/FS Games
Foul out at 6 personal fouls (we keep personal and team fouls)
5 minute game warm-up (Minimum guarantee) and 4-minute halftime
No shot clock
Any team who does not have 5 players by game time will forfeit
Game officials have authority to eject players and coaches for poor sportsmanship
Coaches are responsible for controlling team, spectators, and fans
All other rules are CIF High School rules
Admission is $7 for adults 18 and over and $4 for ages 10 and over
Teams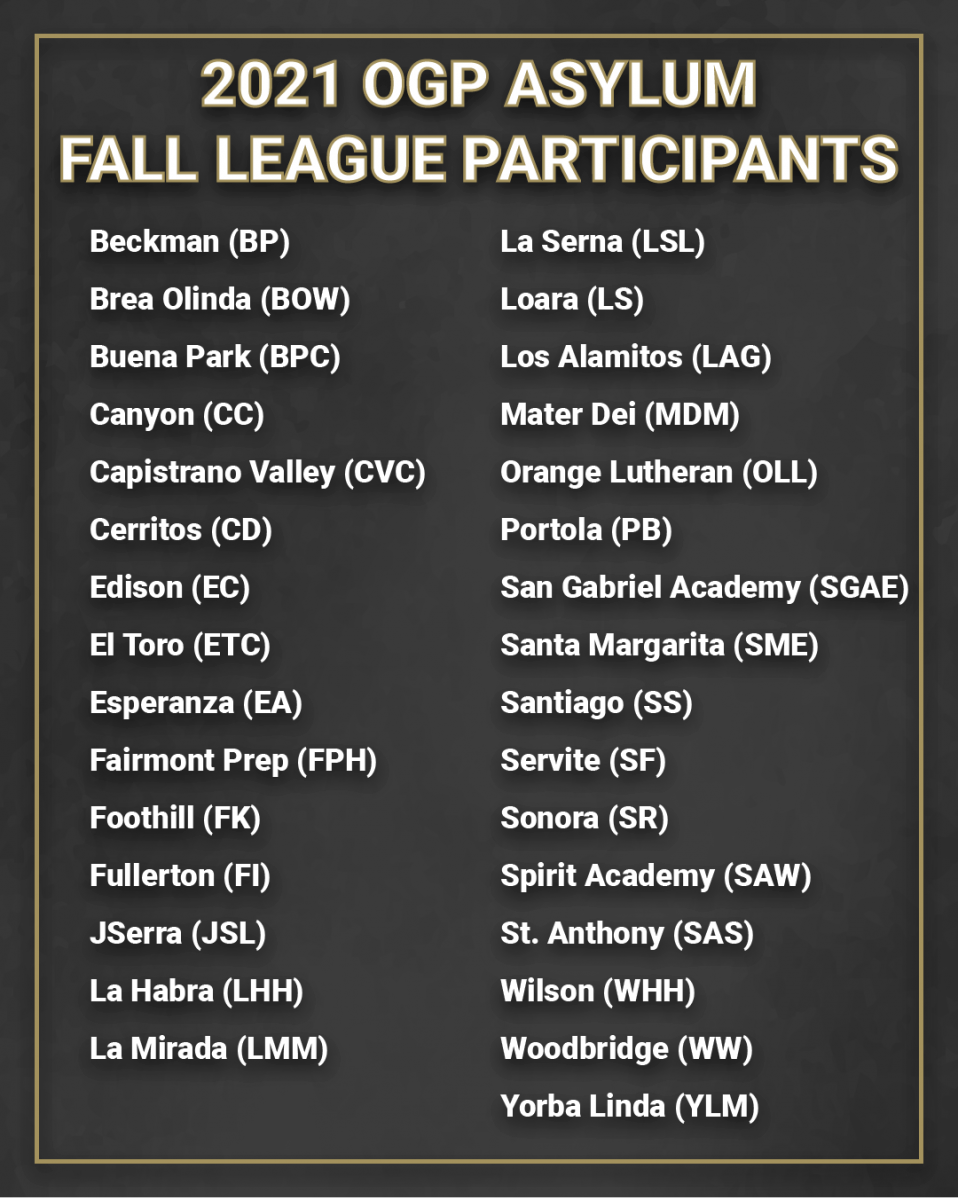 Week 1

Week One Schedule: September 8th, 2021

Frosh/Soph Scoreboard

Week 1 4:00 PM A1 F/S SF 37 vs. 32 CD
Week 1 4:00 PM A2 F/S SR 16 vs. 29 EA
Week 1 4:00 PM A3 F/S SF2 22 vs. 18 LHH2
Week 1 4:00 PM B1 F/S CC 26 vs. 30 LHH
Week 1 4:00 PM B2 F/S CC2 50 vs. 19 FI
Week 1 4:00 PM B3 F/S SAS 41 vs. 21 LMM
Week 1 4:00 PM C1 F/S MDM 53 vs. 35 LSL
Week 1 4:00 PM C2 F/S OLL 11 vs. 47 YLM
Week 1 4:00 PM C3 F/S MDM2 35 vs. 55 PB

JV Scoreboard

Week 1 5:00 PM A1 JV SF 16 vs. 42 CD
Week 1 5:00 PM A2 JV SR 32 vs. 45 EA
Week 1 5:00 PM A3 JV SF2 19 vs. 30 LS
Week 1 5:00 PM B1 JV CVC 54 vs. 42 LHH
Week 1 5:00 PM B2 JV SAW 31 vs. 44 FI
Week 1 5:00 PM B3 JV SAS 37 vs. 30 LMM
Week 1 5:00 PM C1 JV MDM 63 vs. 35 LSL
Week 1 5:00 PM C2 JV OLL 21 vs. 39 YLM
Week 1 5:00 PM C3 JV MDM2 39 vs. 43 PB
Week 1 6:00 PM B3 JV SME 52 vs. 54 FPH
Week 1 6:00 PM C3 JV BP 54 vs. 44 CC

Varsity Scoreboard

Week 1 6:00 PM A1 V SF2 85 vs. 18 LS
Week 1 6:00 PM A2 V SR2 31 vs. 67 FK
Week 1 6:00 PM A3 V JSL 62 vs. 56 LSL
Week 1 6:00 PM B1 V CVC 67 vs. 38 LHH
Week 1 6:00 PM B2 V ETC 59 vs. 62 FI
Week 1 6:00 PM C1 V MDM2 63 vs. 68 PB
Week 1 6:00 PM C2 V OLL2 43 vs. 34 BPC
Week 1 7:15 PM A1 V SF 47 vs. 35 CD
Week 1 7:15 PM A2 V SR 76 vs. 51 EA
Week 1 7:15 PM A3 V WW 53 vs. 71 EC
Week 1 7:15 PM B1 V SAS 67 vs. 44 LMM
Week 1 7:15 PM B2 V BP 47 vs. 80 CC
Week 1 7:15 PM B3 V SGAE 74 vs. 83 FPH
Week 1 7:15 PM C1 V MDM 77 vs. 68 LAG
Week 1 7:15 PM C2 V OLL 49 vs. 54 SS
Week 1 7:15 PM C3 V WHH 58 vs. 54 YLM

Week 2

Week Two Schedule: September 14th, 2021

Frosh/Soph Scoreboard

Week 2 4:00 PM A1 F/S SF1 35 vs. 22 LMM
Week 2 4:00 PM A2 F/S LSL 36 vs. 19 OLL
Week 2 4:00 PM A3 F/S LHH2 26 vs. 35 CC2
Week 2 4:00 PM B1 F/S EA 47 vs. 52 SAS
Week 2 4:00 PM B2 F/S LHH 42 vs. 25 BOW
Week 2 4:00 PM B3 F/S FI 11 vs. 46 CC
Week 2 4:00 PM C1 F/S MDM1 67 vs. 35 CD
Week 2 4:00 PM C2 F/S YLM 32 vs. 48 PB
Week 2 4:00 PM C3 F/S MDM2 25 vs. 21 SR

JV Scoreboard

Week 2 5:00 PM A1 JV SF1 30 vs. 39 LMM
Week 2 5:00 PM A2 JV LSL 80 vs. 29 OLL
Week 2 5:00 PM A3 JV SF2 37 vs. 38 SAW
Week 2 5:00 PM B1 JV FPH 21 vs. 41 SAS
Week 2 5:00 PM B2 JV LHH 36 vs. 33 BOW
Week 2 5:00 PM B3 JV FI 31 vs. 58 CC
Week 2 5:00 PM C1 JV MDM1 32 vs. 55 CD
Week 2 5:00 PM C2 JV EA 23 vs. 44 CVC
Week 2 5:00 PM C3 JV MDM2 37 vs. 47 SR
Week 2 6:00 PM B3 JV YLM 32 vs. 21 BP
Week 2 6:00 PM C3 JV SME 48 vs. 36 PB

Varsity Scoreboard

Week 2 6:00 PM A1 V SF2 60 vs. 27 SR2
Week 2 6:00 PM A2 V LHH 54 vs. 58 OLL2
Week 2 6:00 PM A3 V FI 62 vs. 47 FK
Week 2 6:00 PM B1 V BOW 60 vs. 57 WHH
Week 2 6:00 PM B2 V CD 41 vs. 49 WW
Week 2 6:00 PM C1 V MDM2 64 vs. 41 BPC
Week 2 6:00 PM C2 V EA 58 vs. 55 ETC
Week 2 7:15 PM A1 V SF1 56 vs. 59 LMM
Week 2 7:15 PM A2 V LSL 47 vs. 53 OLL
Week 2 7:15 PM A3 V EC 65 vs. 71 PB
Week 2 7:15 PM B1 V FPH 34 vs. 57 SAS
Week 2 7:15 PM B2 V CVC 51 vs. 55 LAG
Week 2 7:15 PM B3 V YLM 54 vs. 48 BP
Week 2 7:15 PM C1 V MDM1 84 vs. 43 SS
Week 2 7:15 PM C2 V CC 60 vs. 68 JSL
Week 2 7:15 PM C3 V JSL2 49 vs. 55 SR

Week 3

Week Three Schedule: September 22nd, 2021

Frosh/Soph Scoreboard

Week 3 4:00 PM A1 V SF1 56 vs. 42 SR
Week 3 4:00 PM A2 F/S EA 45 vs. 27 LHH2
Week 3 4:00 PM A3 F/S CD 55 vs. 27 YLM
Week 3 4:00 PM B1 F/S SAS 37 vs. 64 CC
Week 3 4:00 PM B2 F/S BOW 28 vs. 18 OLL
Week 3 4:00 PM B3 F/S LHH 51 vs. 35 MDM2
Week 3 4:00 PM C1 F/S MDM1 84 vs. 12 LMM
Week 3 4:00 PM C2 F/S CC2 35 vs. 34 LSL
Week 3 4:00 PM C3 F/S PB 53 vs. 26 FI

JV Scoreboard

Week 3 5:00 PM A1 V LS 47 vs. 73 SR2
Week 3 5:00 PM A2 JV EA 23 vs. 37 BP
Week 3 5:00 PM A3 JV CD 55 vs. 26 BOW
Week 3 5:00 PM B1 JV SAS 50 vs. 45 CC
Week 3 5:00 PM B2 JV FPH 36 vs. 26 OLL
Week 3 5:00 PM B3 JV LHH 28 vs. 39 MDM2
Week 3 5:00 PM C1 JV MDM1 50 vs. 29 LMM
Week 3 5:00 PM C2 JV CVC 54 vs. 56 LSL
Week 3 5:00 PM C3 JV PB 47 vs. 18 FI
Week 3 6:00 PM B3 JV LS 31 vs. 51 SAW
Week 3 6:00 PM C3 JV YLM 50 vs. 56 SME

Varsity Scoreboard

Week 3 6:00 PM A1 F/S SF 25 vs. 28 SR
Week 3 6:00 PM A2 V EA 66 vs. 56 BP
Week 3 6:00 PM A3 V SF2 42 vs. 60 ETC
Week 3 6:00 PM B1 V CVC 52 vs. 41 LSL
Week 3 6:00 PM B2 V FI 55 vs. 75 OLL2
Week 3 6:00 PM C1 V MDM2 81 vs. 55 LHH
Week 3 6:00 PM C2 V BPC 61 vs. 49 FK
Week 3 7:15 PM A1 JV SF 35 vs. 76 SR
Week 3 7:15 PM A2 V EC 64 vs. 43 CD
Week 3 7:15 PM A3 V SS 59 vs. 72 BOW
Week 3 7:15 PM B1 V SAS 70 vs. 55 CC
Week 3 7:15 PM B2 V FPH 74 vs. 84 OLL1
Week 3 7:15 PM B3 V WHH 55 vs. 61 PB
Week 3 7:15 PM C1 V MDM1 60 vs. 28 LMM
Week 3 7:15 PM C2 V JSL 61 vs. 42 LAG
Week 3 7:15 PM C3 V YLM 46 vs. 66 WW