Established in 2014, Club Director Daniel Hart understood there was a need for a highly competitive volleyball club in the inland region. With most families driving down to the beach cities to find a quality club, Pulse Volleyball stepped in and became the fastest-growing volleyball club in the SoCal region. Now 2021, Open Gym Premier is excited to announce we are partnering with Pulse Athletics to deliver a boys and girls club volleyball experience.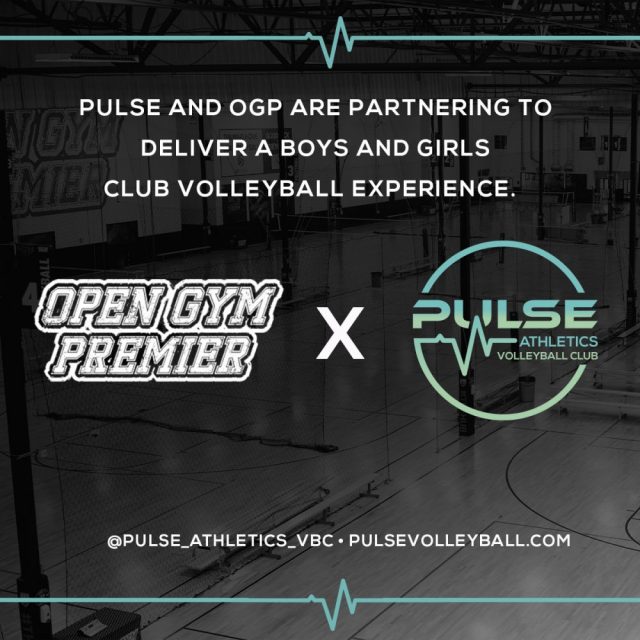 Pulse is a family-owned and oriented club, with the goal of providing the finest possible volleyball experience to every athlete that is involved in their program – as a player, person, and student/athlete. To achieve that goal, Pulse strives to maximize the individual skill level of every player and then combine those players into the best possible team they can be. Pulse stresses the development of fundamental technical skills, learning to work together as a team, and personal habits that lead to success in any walk of life.
Interested in learning more? Sign up for a Clinic Today!
Pulse pre-tryout clinics are designed to offer a fast pace and content filled environment similar to what every practice with us will feel like. We are dedicated to using every minute of training time available to stretch our athletes and encourage experimentation and creative problem solving. Each clinic is run by Coach Brandon Pank and players will have an opportunity to learn first hand from coaches of their specific age group. Tryouts are inherently a stressful process and we work to give you the most complete picture of who we are and what we offer through pre-tryout clinics. Sign up today and learn what it means to be Pulse Stronger.
Girls Tryouts are coming soon! Will you be attending on Saturday, July 24th from 6-8pm or Sunday, July 25th from 6-8pm?