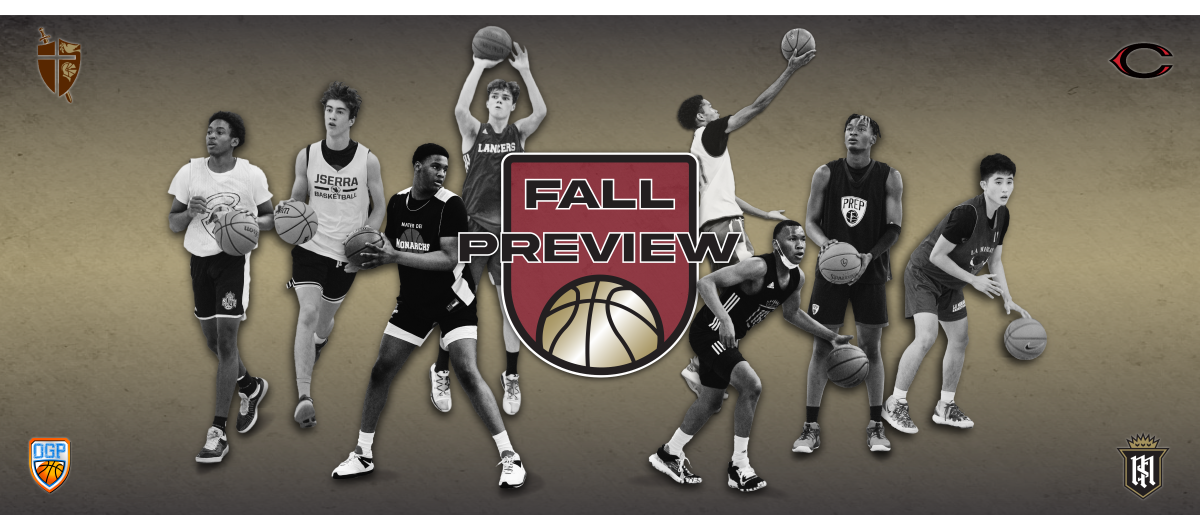 Kicking off the 2021-22 season, top teams from all over California collided in Anaheim at the Open Gym Premier facility this past weekend to preview the landscape of High School Basketball. Highlighted by schools Mater Dei, St. Anthony, St. John Bosco, Crean Lutheran, and reigning CIF champion Corona Centennial fans got a glimpse of the jam-packed Open Division amongst others. Curious to know what went down? Read on below!
Open Gym Premier– Twitter and Instagram
Grassroots 365– Website and Instagram
#OGPFallPreview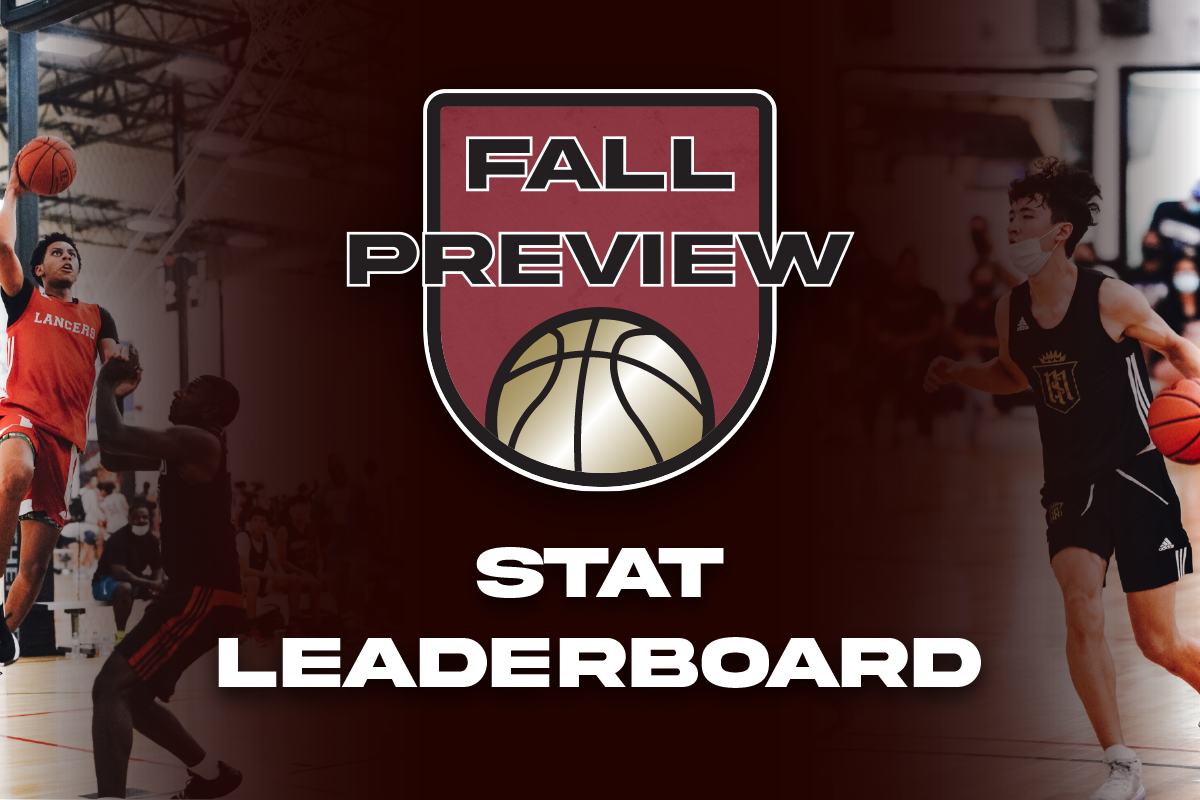 Invited Media
Frank Burlison – Burlison on Basketball
Joel Francisco – Prep Hoops
Eric Sondheimer – LA Times
Steve Fryer – OC Register
Dan Albano – OC Register
Devin Ugland – Ballislife
Aaron Burgin – Fulltime Hoops
Tarek Fattal – LA Daily News
Thomas Beddall – Overtime
Ronnie Flores– Ballislife
Manny Alvarez – Student Section Reporter
Dinos Trigonis – Nothing But Net
Dave Keefer – Cal Preps
Player Spotlight
Top Performers
Click on the Player Name to find event stats on their Passport!
All-Tournament Team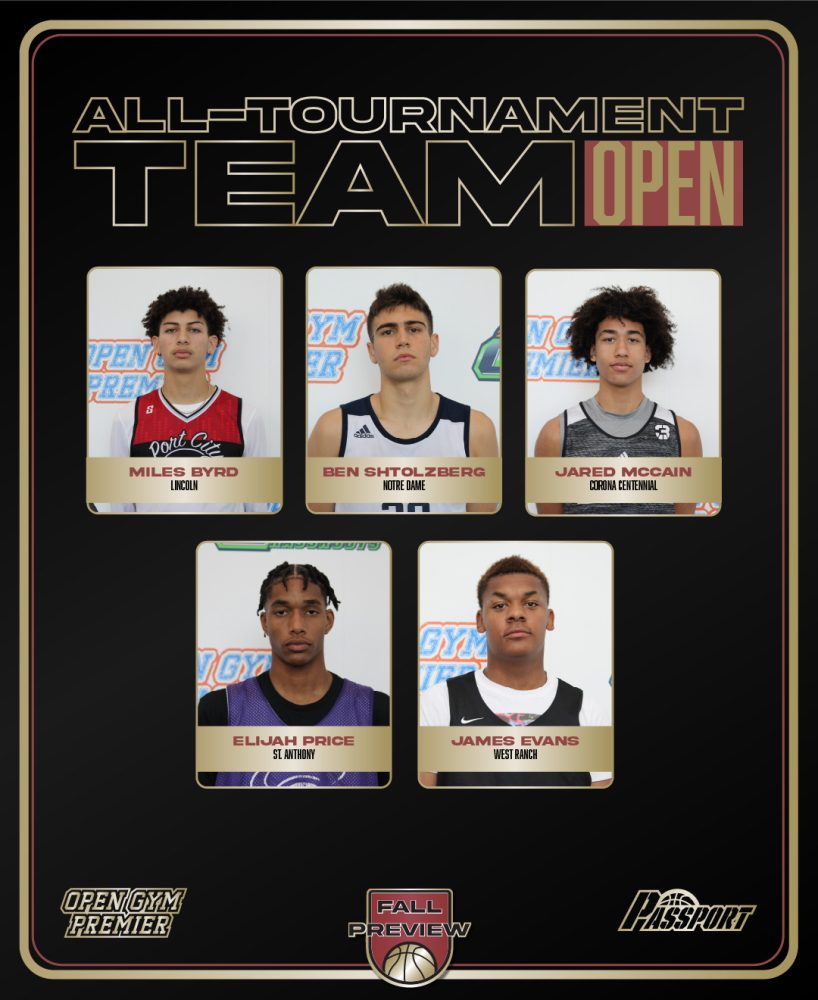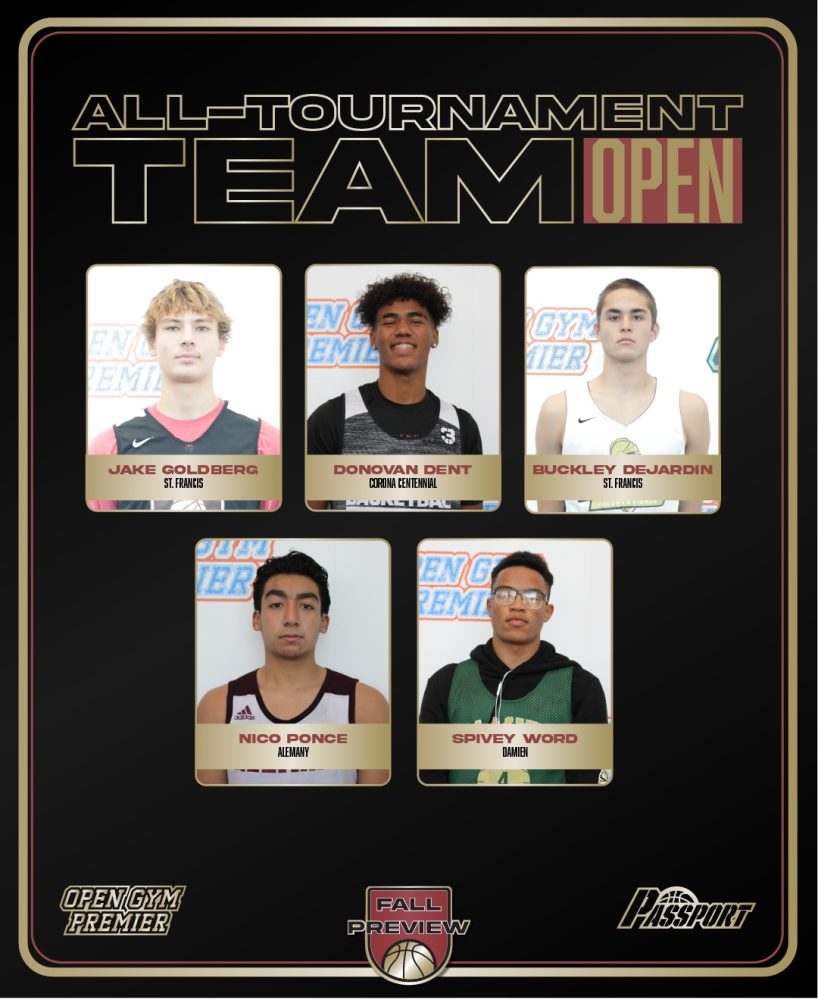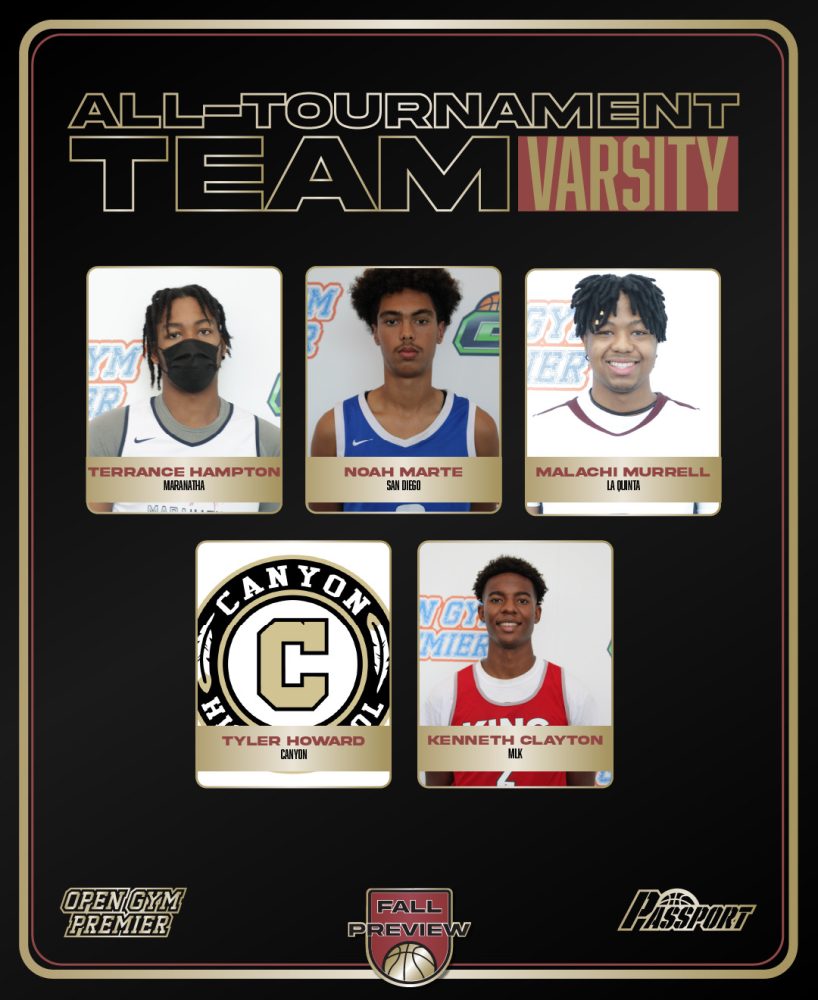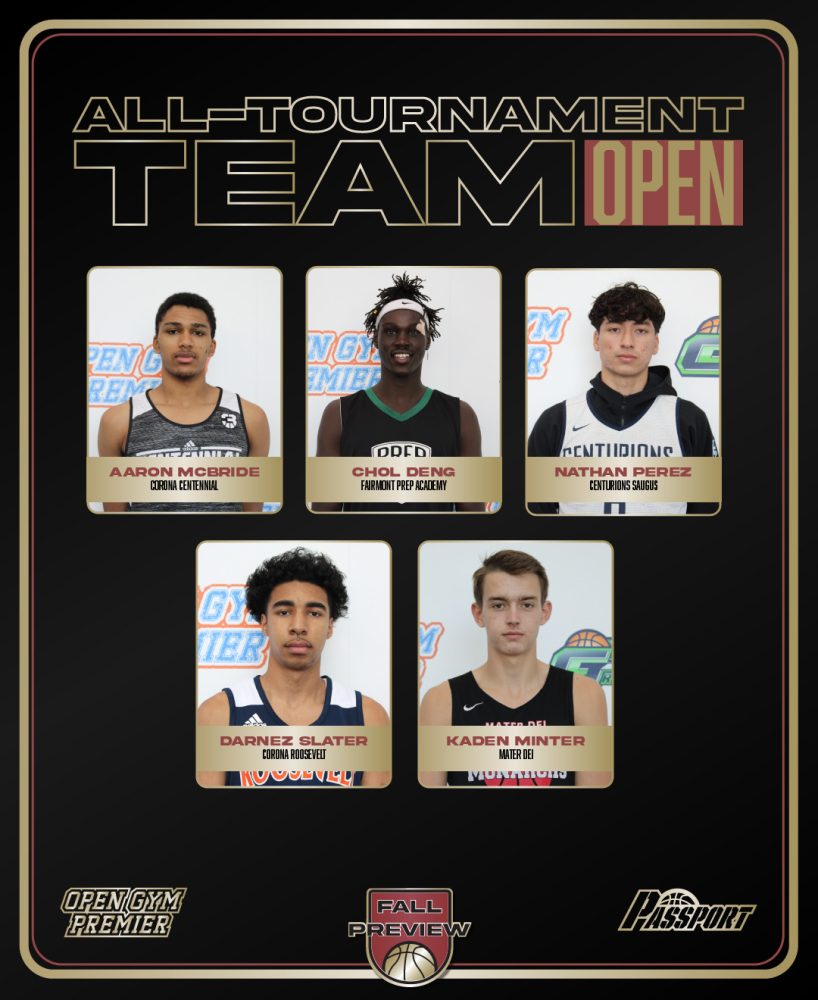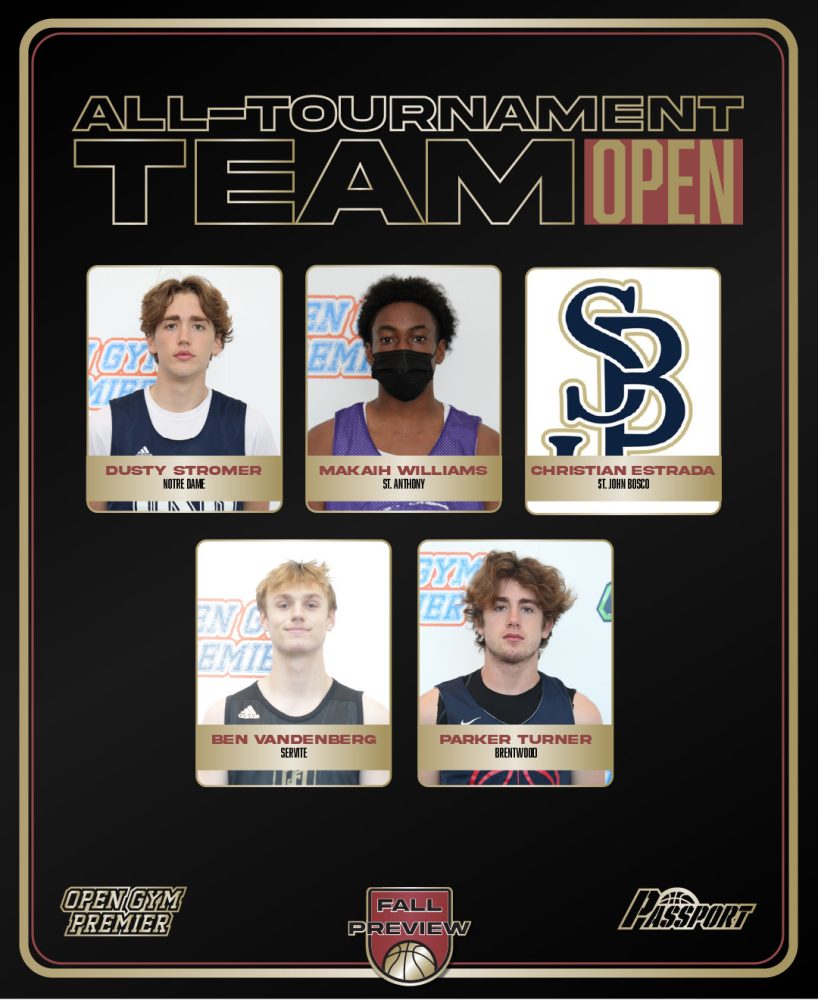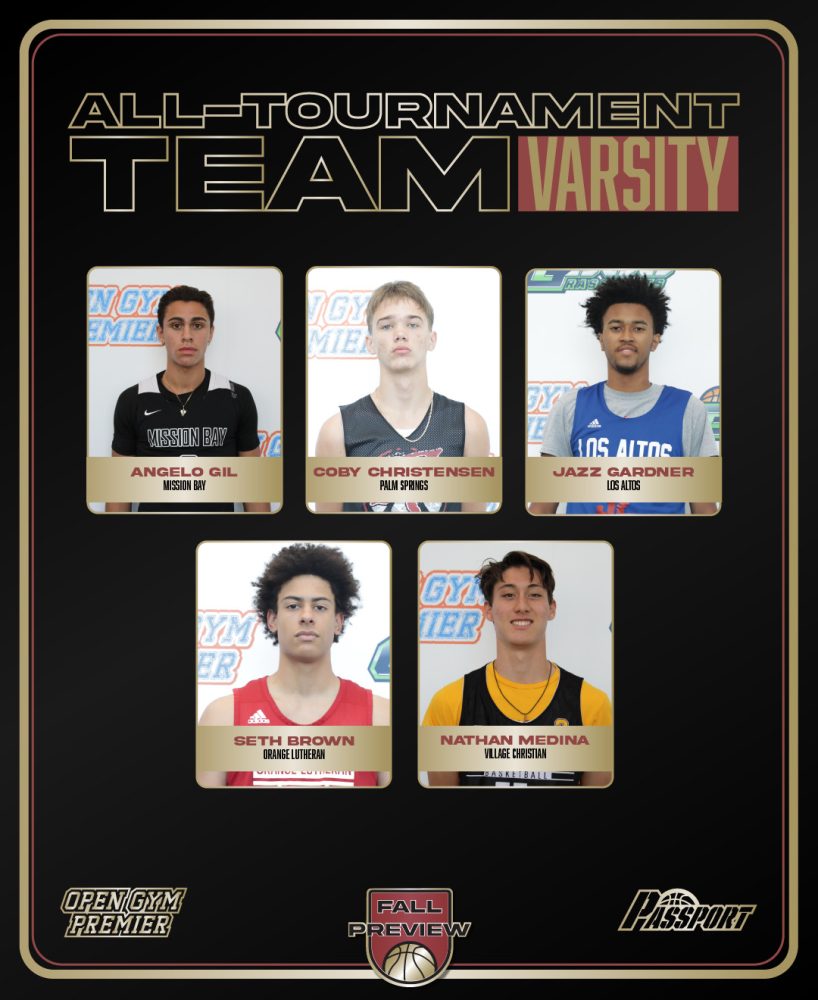 Scoreboard
Saturday
8:00am- Pacifica Christian vs St. Francis- B1- Score: PC 50- SF- 60
11:45am- Corona Centennial vs Mater Dei- A1- Score: CC- 67– MD- 57
11:45am- West Ranch vs Los Osos- B1- Score: WR- 66– LO- 60
11:45am- Roosevelt Eastvale vs Notre Dame- C2- Score: RE-54-ND-67
1:00pm- Saugus vs The Ranch (Weston Ranch)-A1 Score: S- 81– TR-76
1:00pm- Damien vs Capistrano Valley- B3 Score: D-71– CV- 49
2:15pm- Fairmont vs Village Christian- B1 Score: F-68- VC- 61
4:45pm- Port City Red (Lincoln) vs St. Anthony- A2 Score: PCR- 63- SA-77
7:15pm- Big Dawg Basketball (Sheldon) vs St. Anthony- B1 Score: S-43-SA-40
7:15pm- Crean Lutheran vs St. John Bosco- B2 Score: CL- 48- SJB-72
Sunday
8:00am- Hillcrest vs Crean Lutheran A1 Score: H-45-CL-46
8:00am- St. Anthony vs West Ranch- B2 Score: SA-56-WR-50
9:15am- Highland vs St. Francis- B2 Score: H-54-SF-56
10:30am- Hillcrest vs Village Christian- A1 Score: H-44-VC-60
11:45am- Brentwood vs Pacifica Christian- B1 Score: B-61-PC-67
3:30pm- St. Francis vs The Ranch (Weston Ranch)- A1 Score: SF-62-TR-60
3:30pm- Servite vs Alemany- B1 Score: S-54-A-57
Highlights
Download the Grassroots 365 App!
More Information
Location:
Open Gym Premier Training Center and Management Office
1500 South Anaheim Blvd, Anaheim, CA 92805
We're entering Week 6 of the Asylum Fall League here at Open Gym Premier, Check out our live-blog here!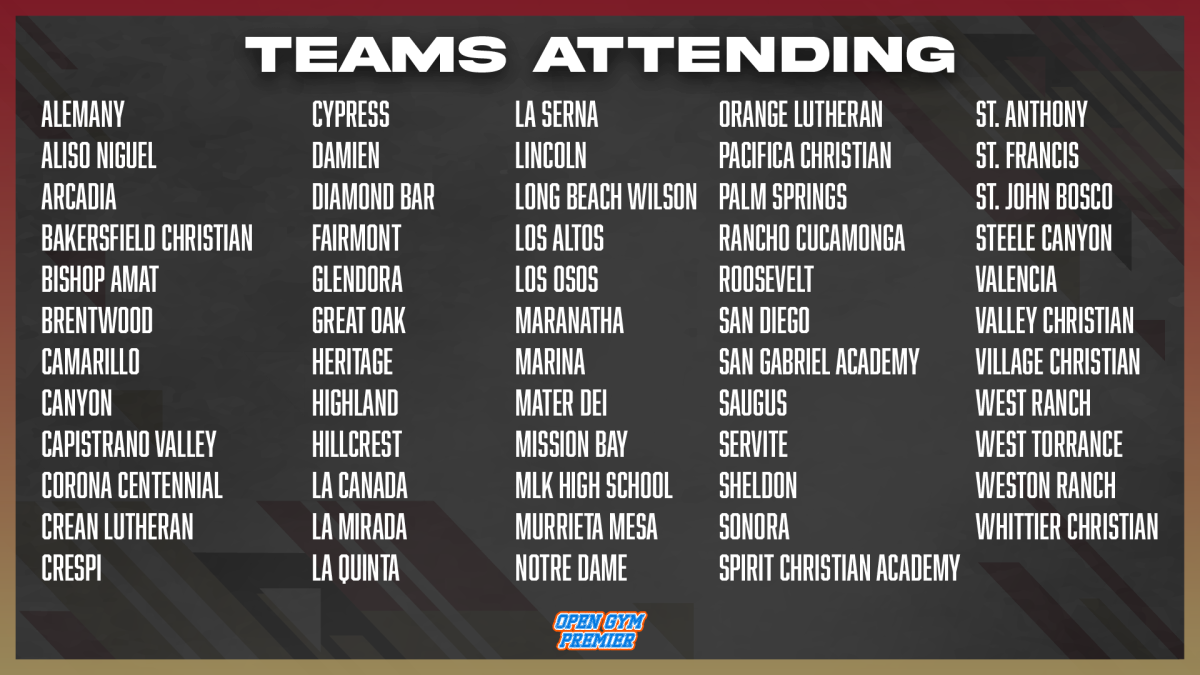 INTERESTED IN READING ON?
Check out some of our other blog posts below!
USA Women's Volleyball Wins Gold!
Operating the Ballislife Jr. All-American Camp